Dallas Fan Expo 2021 Post Report
Pre-Attendance To Dallas Fan Expo 2021
Dallas Fan Expo 2019 was the first Fan Expo I attended. My sister said it would be a very large convention in comparison to other similar events I had been to. She was quiet right. However, it was well organized and not at all intimidating for its size.
It had varied, and interesting guests, as well as venders. It had so many programs, panels, and features I needed the whole weekend to get to do everything I wanted. It set a high standard, and left me with high hopes for the next year.
I was excited about Dallas Fan Expo 2020. Unfortunately, it, like everything else, was pushed back to 2021 due to COVID-19. 2021 arrived, but a number of potential attendees still had concerns about COVID-19. The prevalent pandemic, precautions, and safety measures were a big part of my decision to attend or stay home. I'm certain many others carefully weighed the factors before making their decision about this year's Expo.
COVID-19 Safety
The Expo, of course, is held in Dallas, which brought a number of concerns as it is one of the hot spots currently for COVID-19. The heads of the convention were well aware of this, and made great strides to assure everyone from the guests, to venders, volunteers, and con-goers were all as safe, and as protected as possible.
• Masks Required
• Lines Set Up / Adjusted For Social Distancing
• Adjustments To Photo Ops With Plexiglass Protectors
• Protective Shield At Signature Tables
Accessibility
Accessibility is something that all members of Team AONN look at very closely. I am pleased to say they were prepared to accommodate a wide variety of disabilities and had measures in place to support sensory issues. The whole of the show floor was set up to be accessible to wheelchairs and other mobility assistance devices. Staff and volunteers were readily available to help when needed. Most areas also had nearby access to seating, and quiet zones were strategically placed for anyone who needed a break.
Convention Adventures
FanExpo opened Friday afternoon. Our teammate, Sil, was there to preview the vendors and their wares. I arrived later that night. Sil was at the airport to meet me. Over dinner, she filled me in on the floor layout and COVID-19 precautions, and showed me some of the awesome merch and swag she was able to pick up from the great vendors at the convention.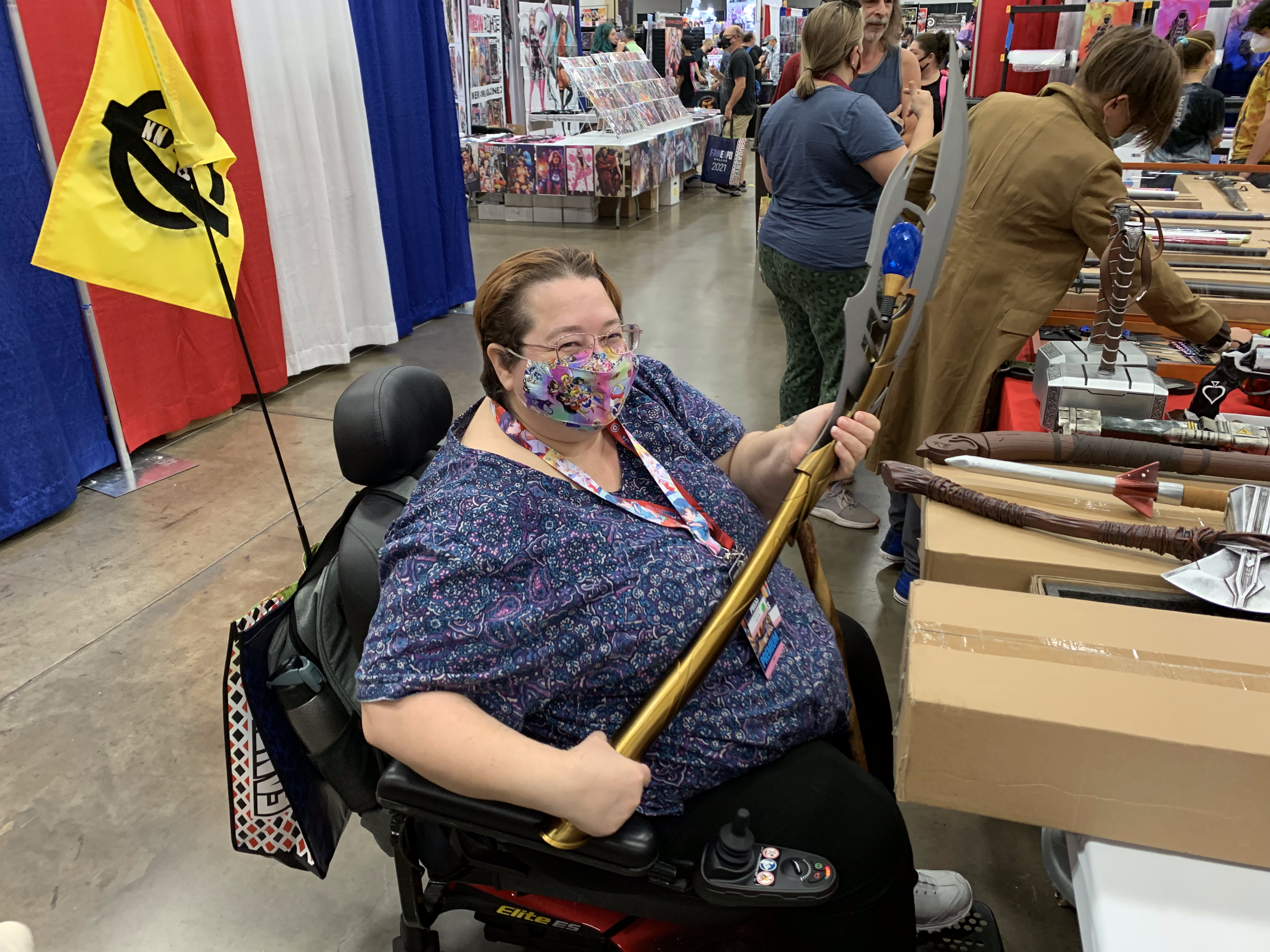 As most Saturdays for Conventions are, this was the busy day for FanExpo. Despite the number of people who showed up, it didn't feel cramped like many other conventions. It was fantastic to see all the awesome Cosplayers, most of which had incorporated their mask into their costume. I dressed up myself, and got a mask that would fit my Batman themed outfit.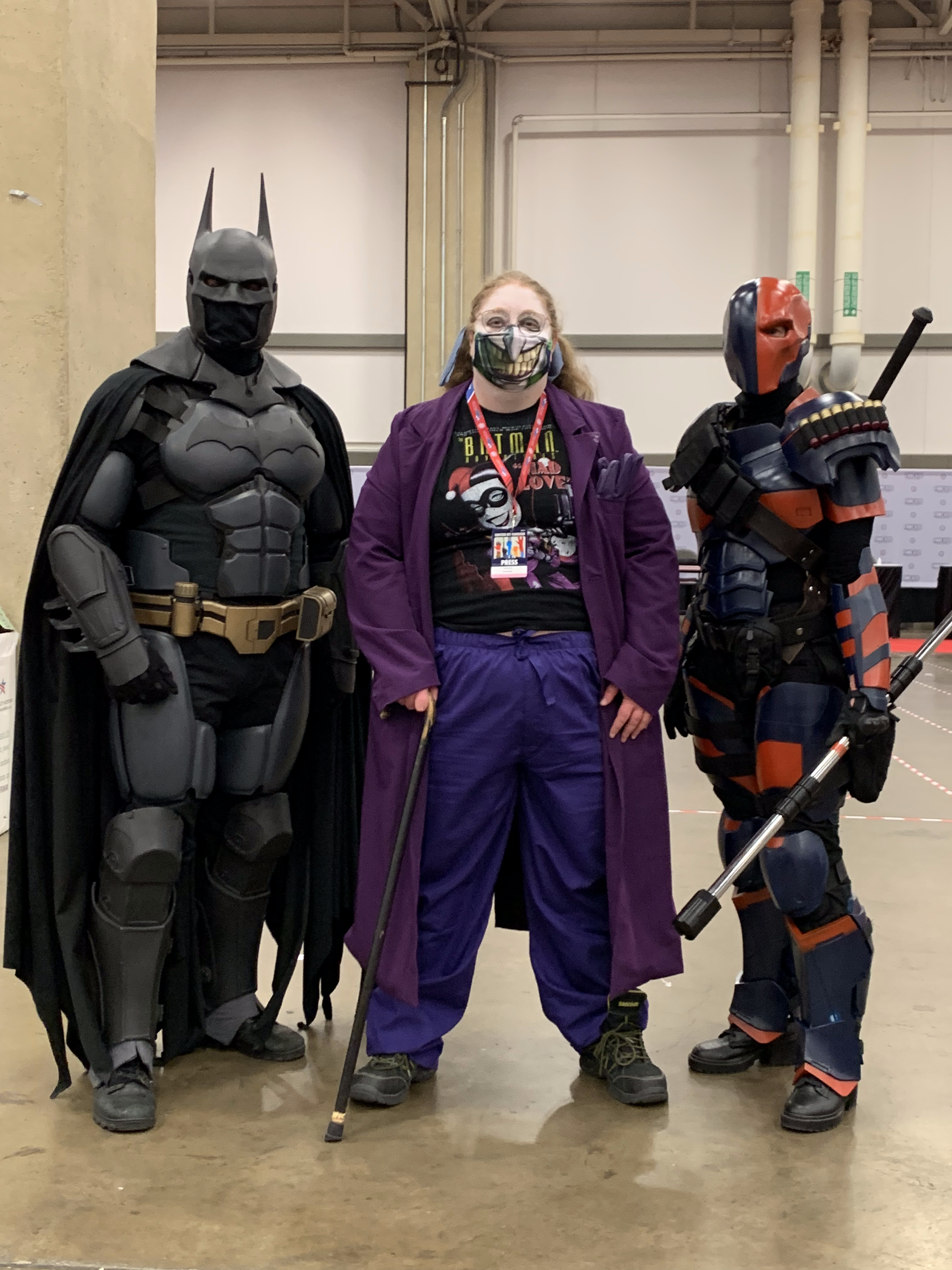 I had selected my outfit for a very specific and special reason: the fabulous Kevin Conroy (@RealKevinConroy) was attending this year! I love voice actors, I love Batman, and I loved talking to him briefly about how spectacular he was on his live action Cameo in the Crossover TV Event of "Crisis On Infinite Earth." Of course, I had to get a Photo Op!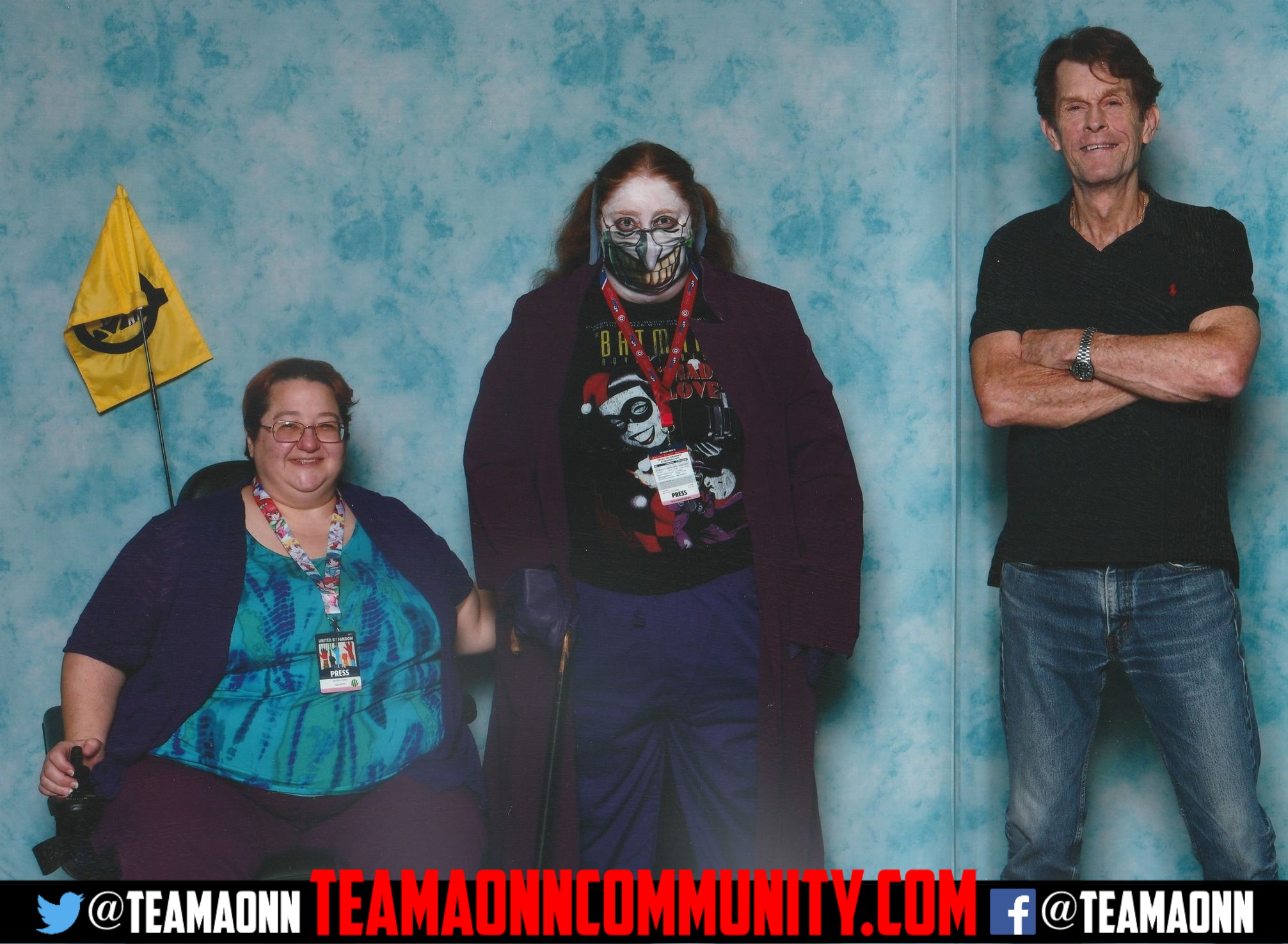 I love to meet at least one Comic Artist / Writer when I got to a Convention at a minimum. This time I met Sam de la Rosa!  He was super nice, and even was fundraising for charity.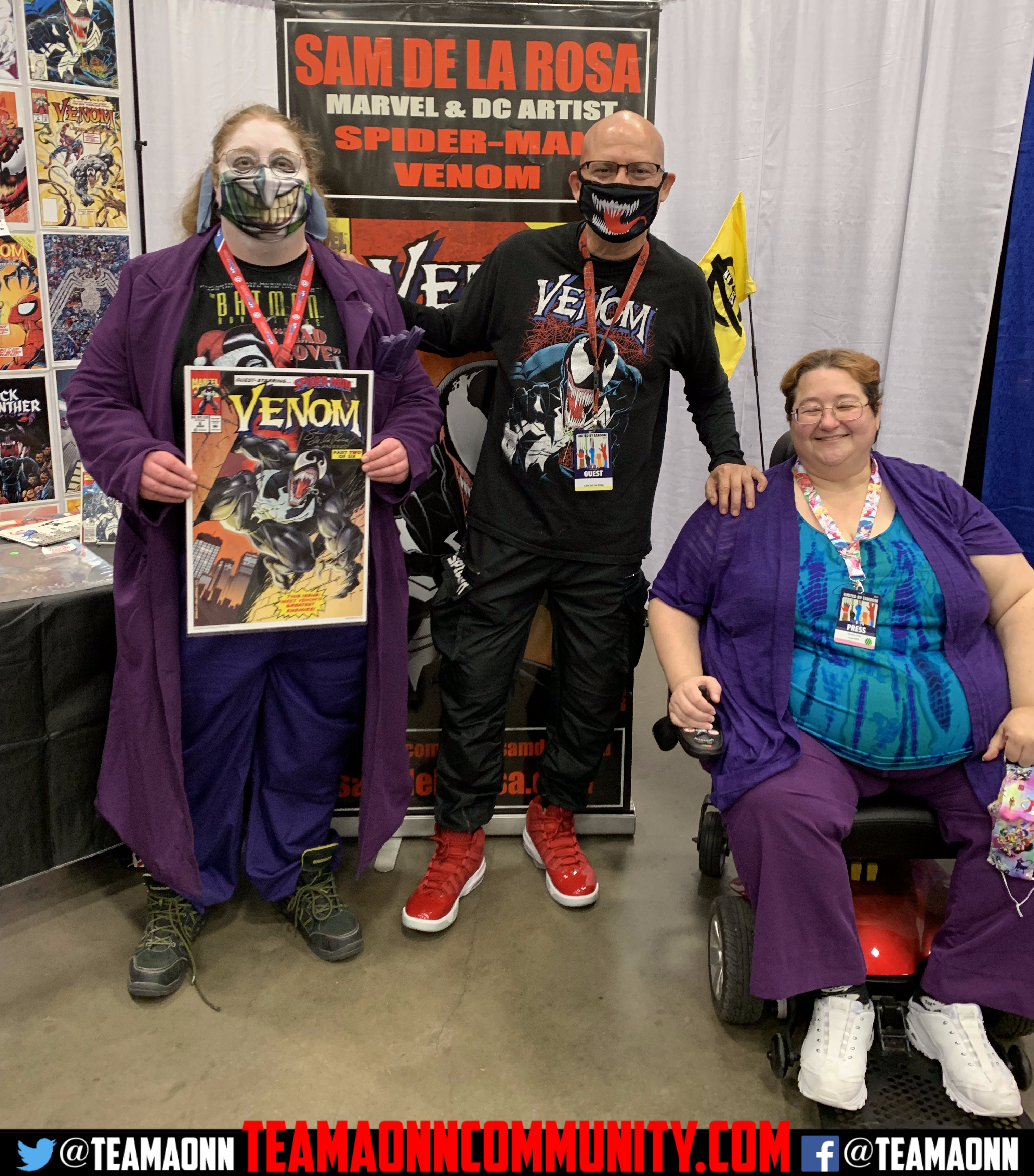 While Sil and myself sometimes fangirl over different things (for example, me with Mr. Conroy), we both were swooning over the ever-charming Ron Perlman (@perlmutations). He was jamming out to some classic Sinatra, and having a blast. We both know him from Hell Boy, and the 1987 TV show Beauty and the Beast. I also know, and loved him in Sons of Anarchy. An added bonus for me was two other SOA cast members, Ryan Hurst and Theo Rossi, were also guests at FanExpo!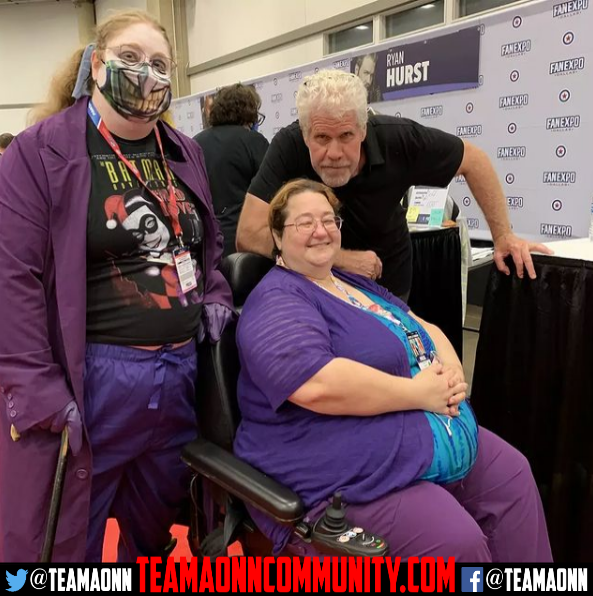 Unfortunately, Brendon Fraser had to cancel the week of the Expo, but there is always next year! Sil got to see George Takei (@GeorgeTakei), after first meeting him before I was born! Mr. Takei was an absolute pleasure, and marks the last member of the TOS main cast that I had not met!
Sundays are usually a wind down / lazy day for conventions. The crowds aren't as thick and vendors are looking to sell their merch so they don't have to pack it up. I enjoy going around the floor to see if I missed anything on day 1 or 2. It's also a great time to grab items I didn't have time to pick up, sit in on final panels, and catch guests I have yet to see due to how busy Saturday was.
While taking a second look around the floor, I posted a number of shorts to our Youtube and Social media outlets. I got to meet up with an online friend I had met in the Michael Fassbender fandom. She is the one who introduced me to the rabbit hole that is the Zachary Quinto (@ZacharyQuinto) awesome body of work. Zachary was also a guest this year, and has a wide verity of work from TV, Stage, and Motion Pictures.
Expo Information
Show Hours:

Friday          4 PM – 9 PM
Saturday     10 AM – 7 PM
Sunday        10 AM – 5 PM
Dallas Fan Expo Official Website