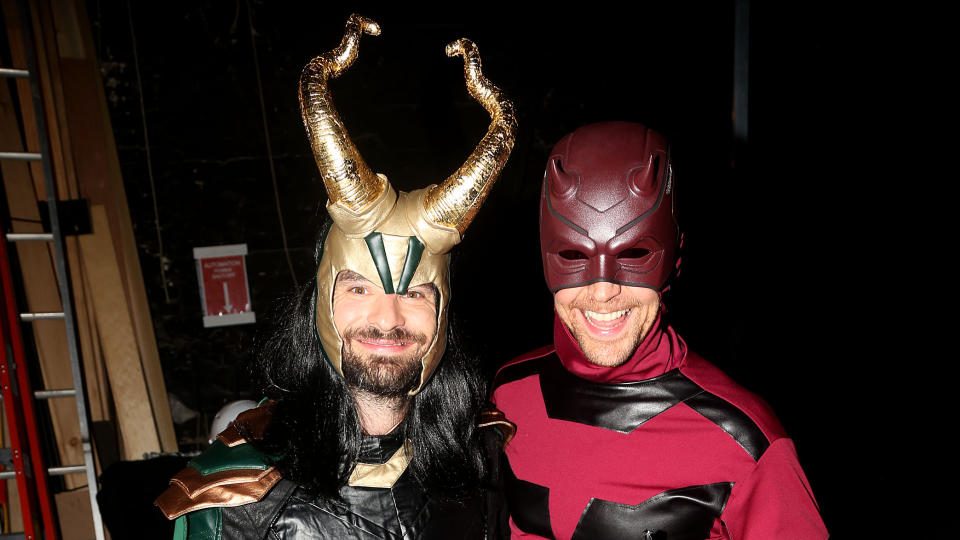 Charlie Cox, Daredevil, and Loki
Who hasn't seen THAT Halloween picture?
I didn't go into FanExpo Dallas expecting to make anything of it. I knew I needed to get his autograph for a friend, TheLastOath, but I didn't know I would decide to buy a photo op and a second autograph. Once there, though, I couldn't resist.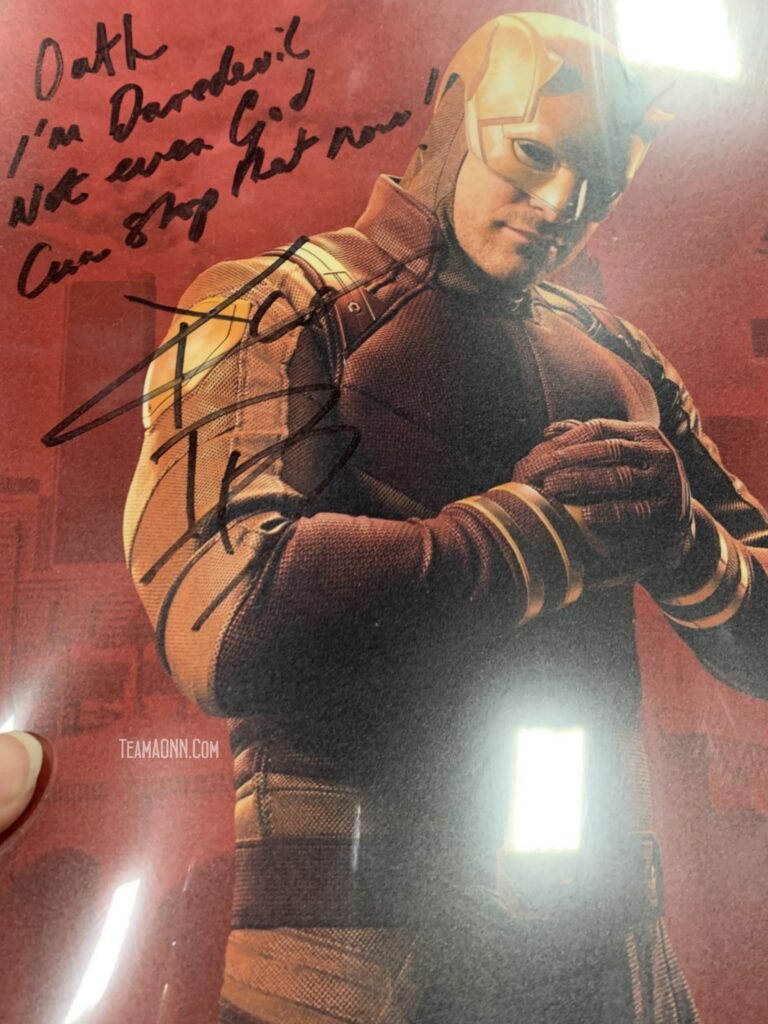 Perhaps that's part of the magic of FanExpo Dallas. There's nothing special about the lighting, but the venue packed with fans, cosplay, venders, celebrities, artists, and displays, complete with red carpet, draws you in. It's like stepping into a different world, one that calls to every nerdy bone in your body, and electrifies you with excitement. Before I knew it, I had tickets in hand and was headed to the Photo Ops area, best friend and sister in tow.
The crowd was insane. Convention staff were trying to get people to clear out of the area. The con-goers were clustered in a large group, blocking all access to the Photo Ops, and they were not listening to the instructions being given. This is nothing unique to this convention; I've seen it at least a dozen times at other conventions around the country. People afraid they will miss their time slot; people wanting to be first in line for their time slot… they congregate and group up, vying for position, and they create a huge traffic jam that, honestly, is a fire hazard. Staff knew this. Staff were trying to get people to clear the area. The people would not move. However, I have a loud, MOM voice, and I'm in a wheelchair. "Make a Hole! Wheelchair coming through! Move it Move it Move it!" I shouted over and over, and people did move. LOL Maybe next year I'll equip my ride with a cowcatcher like they have on the front of trains.
The Photo Op itself was a few minutes of glorious. They move fast and there's really no time to linger. This year, there were no plexiglass barriers to deal with. You could get up close and semi-personal with your chosen celebrity. In this case, Charlie Cox, Daredevil. I wanted to stand up, and while Annie was there to help, my back chose that moment to spasm. My legs were shaking and I didn't know if I would be able to make it. Charlie Cox proved the true hero in that moment and helped me to my place by his side for the picture. He hugged me in to help keep me up, and then it was done. He assisted me back to my chair and I thanked him for his help.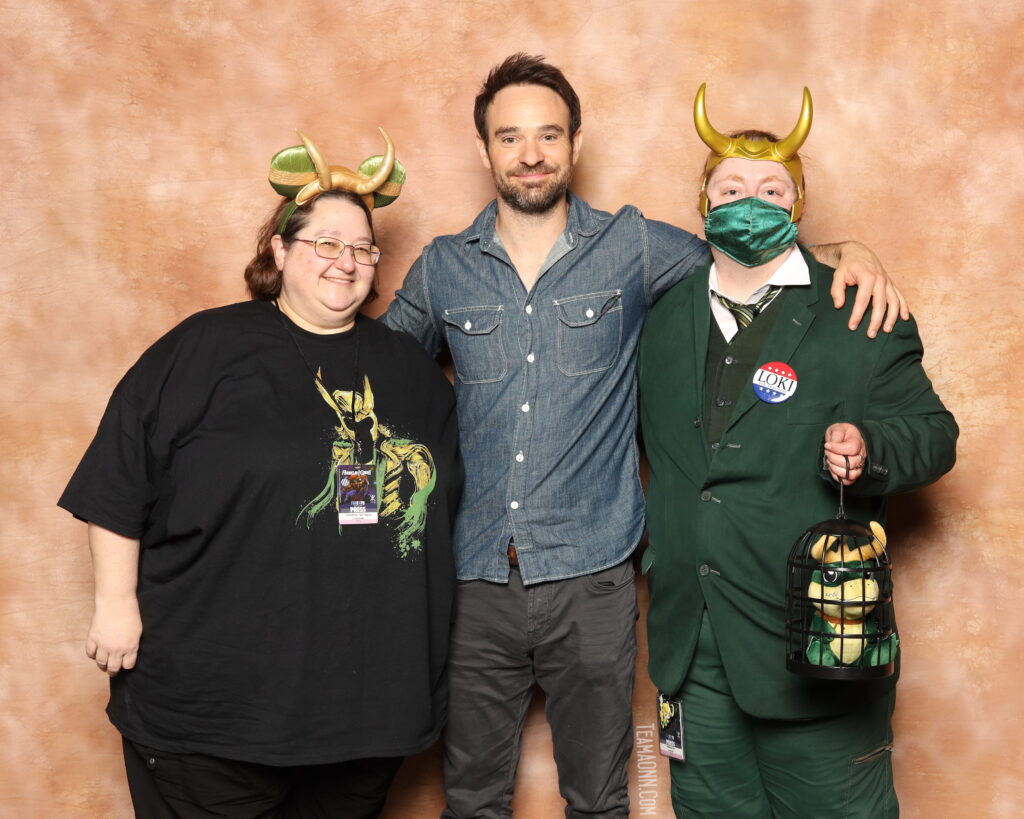 It must be said, FanExpo is one of the best conventions I attend for ADA access. There are easy to find elevators. There are ramps. There's an ADA booth. Most lines have convention staff ready to assist and guide you to a line where you won't have to twist, turn, or maneuver your chair through other con-goers. I may not have been VIP, but staff made me feel like I was.
It was no exception when I went to get the photo signed. I was shown to the VIP line where I waited my turn. After a short wait, I was shown to his table. He remembered me from the photo op, and commented that he's good friends with Tom Hiddleston. blush We talked for a few minutes and he told me I inspired him when I chose to stand and walk for the photo op. Me? Inspire him? My heart did a little flip at that. The charmer! I left the booth with a huge grin.
Magical, indeed.
---
About Charlie Cox:
Charlie Thomas Cox was born in London, England, UK. He has English, Scottish, and Irish ancestry, and is best known for portraying Matt Murdock / Daredevil in several projects of the Marvel Cinematic Universe, including Spider-Man: No Way Home and the television series Daredevil and She-Hulk. He has performed alongside Tom Hiddleston in Betrayal (2019) on Broadway, Al Pacino in The Merchant of Venice (2004), Eddie Redmayne in The Theory of Everything (2014), and Wall Street (2014) with John Cusack. https://www.imdb.com/name/nm1214435/ Upcoming projects include Spider-Man: Freshman Year (In Development) and Daredevil: Born Again (In Production).
---
ABOUT FAN EXPO HQ:
With over a million fans and counting, FAN EXPO HQ attracts pop culture enthusiasts, locally and internationally, to come together to celebrate all things fandom. Collectively it hosts nearly one million fans annually at FAN EXPO Dallas™, FAN EXPO Canada™, MEGACON Orlando, FAN EXPO Boston™, FAN EXPO Denver, FAN EXPO San Francisco, CALGARY EXPO, FAN EXPO Chicago, FAN EXPO Philadelphia, FAN EXPO Portland, FAN EXPO New Orleans, FAN EXPO Cleveland, FAN EXPO Vancouver™, Toronto Comicon, Dallas FAN FESTIVAL and EDMONTON EXPO. The latest schedule of events is available on the Website, along with up-to-date ticket information. Discover. Celebrate. Belong.
---
Check Out Our Previous Years Covering The Dallas Fan Expo