Baby Yoda. Baby Fucking Yoda. Baby Mother Fucking Yoda. This kid is popular. I haven't seen anyone this popular since the guy who invented Bacon. Okay, maybe I'm over exaggerating. But what can I say? Baby Yoda has become an icon in today's society. Everyone seems to love the little thing.
Why? It's cute, it's adorable…. It eats fucking frogs?!? Awwwwwwwwwwwww.
Okay, so what's nearly as good as having a baby yoda of our own. Yes, you can go out and buy a toy, a stuffed animal, but what will help capture that love for baby yoda?
A Minecraft Mod!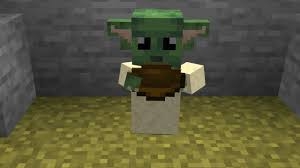 Yep, that's right. Someone who will remain epic, has made a data pack to add baby yoda to your game.
It wanders Around!
It blinks at you!
It drinks!
It force chokes mobs!
Wait, rewind that? It kills mobs? Yep. And when you kill mobs in front of it, it jumps up and down happily!
So if you're a fan of baby yoda, and a minecraft player, go check out the data pack here.